Usually, when one is focusing upon cleaning out air ducts in a home, the primary purpose is an attempt to improve the air quality inside the house. However, for some industries, air duct cleaning is essential to rid the HVAC system of combustible dust that accumulates over time. For example, in the cotton weaving industry, once a staple of Southern industry, cotton dust is highly combustible. Accordingly, industrial applications for duct cleaning are a high priority for most industries.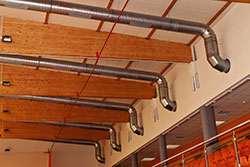 A. How Much Danger Is There?
Since 1980, there have been over 350 plant explosions in various industries due to combustible dust. One estimate calculates that over 130 people have been killed in these explosions, and hundreds more have been injured, some critically. Just a few examples include an explosion in a Massachusetts iron work business, one in a Georgia sugar plant, one in an acoustics insulation plant and even one at a North Carolina pharmaceutical manufacturer. Safety experts in these industries are also aware of the relatively small amount of dust that it takes to provide fuel for such a fire – National Fire Protection Agency Standard 653 states that "As little as 1/32 of an inch of organic dust over 5 percent of a room's surface area presents a significant explosion hazard." Imagine how quickly much thicker levels can accumulate in an industrial operation. Obviously, when it comes to air duct cleaning, a business that works with products that create combustible bust, HVAC unit cleaning and exhaust system cleaning, including the ducts feeding these systems, is a necessity and not a luxury.
2. How does a Combustible Fire occur?
Three materials are needed to create a combustible fire: the dust, which serves as fuel for the fire, heat or sparks, which provide a way for the dust to ignite and oxygen in the air, which allows the fire to continue. For ignition to create an explosion, there are two more conditions necessary: combustible dust in enough quantity and thickness and the confinement of the dust to a particular area. Because combustible dust in duct work in a plant meets all of these requirements, it is important for the company to consult an air duct contractor experienced in removing combustible dust, including the many safety precautions the contract must take to protect the safety of the plant's employees and his own.